Small business owner, Travis Diss, had a feasible dream to holiday longer than 10 days. For years this dream has been out of reach because taking a step back from his role has been unimaginable… until he went digital.
Sixteen years ago, the butcher by trade, pioneered Travis Diss Fine Foods. With money borrowed against his house, a van filled with stock, a few connections and a passion for success, Travis saw an opening. He began knocking from door to door in his local town of Bendigo, central Victoria selling his produce.
For Travis, the food and meat industry has been his lifeline. Since leaving school, Travis has always been in the meat industry, first as a butcher, then as a sales rep and now, he is the sole owner and operator of his own business.
Although starting out certainly wasn't smooth sailing, Travis figured he had a lot less on the line then, with no kids, marriage or even a business plan.
"It was all up here," Travis points to his head as he recounts when he first started. "I didn't know how it was going to work but I also knew it wasn't going to fail".
Travis Diss Fine Foods' clientele ranges from pubs and restaurants, cafes, bakeries, supermarkets, butchers and milk bars within a 100-kilometre radius of Bendigo.
With no advertising, no website and in an industry where there is "a lot of smoke and mirrors", Travis pinpoints his success to standing behind his produce which he knows back to front, as well as offering competitive prices, honest customer service and building small business relationships. The business is also local, involved in the community of roughly 110,000 people and prides itself on its ethical standards.
Once Travis' family grew to five, his hands-on approach to the business began to wear thin and he admitted changes needed to be made.
"It was all manual. I was making myself available all the time and working on the weekends. I'm time poor and don't want to be on call 24/7. I didn't want to be taking everything down on paper and wanted things to be less labour intensive" Travis says.
The business soon moved to work on iPads and the cloud, adopting QuickBooks Accounting Software which Travis describes as working well in the interim, but it still wasn't an ordering system.
Albeit under adverse circumstances, the pandemic gave Travis a rare opportunity to pause from his usual busy day-to-day and explore new options.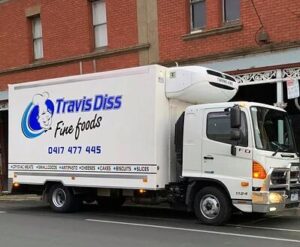 With lockdowns imminent, e-commerce was rising to the challenge of the pandemic and savvy business owners like Travis recognised it wasn't a temporary solution. It was a shift that would become the new norm for any surviving, successful business.
"Technology is pretty much everything these days, especially with cash, cheques and internet payment," says Travis.
Travis Diss Fine Foods makes a change
Seven months since launching Fresho, Travis uses the platform "all day, every day", describing the overall experience for him and his business as "being brought into the 21st century".
"It's giving a small business a big business feel. I'm not a dinosaur and I'm without pen and paper."
Time savings
For Travis, life before Fresho involved copious amounts of phone calls, texts, emails and even faxes.
In the past, Travis would spend his Sunday downtime "monitoring orders coming in, potential challenges, any special orders to cater for and what was in stock". Today, Travis has more time to himself or with his family after the weekend as the work backlog has minimised significantly with the Fresho system accommodating for specials, stock levels and order allocation while Travis has days off.
Staff
Travis soon had the ability to step back from constantly working around the clock, flexibility that he never thought possible. From staying out on the road for longer while his one employee could manage orders and deliveries, to being home in the morning to make his kids breakfast.
Luke, his one other staff member, was open to learning Fresho and "could see the benefits of it."
"For what I need him to do – pick, invoice and deliver orders – it's been great." Travis says.
Then, like most Victorians, Travis was infected with COVID-19.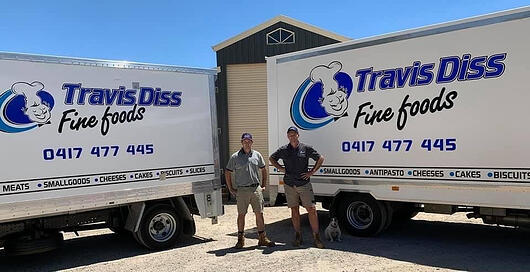 Collectively, Fresho and Travis Diss Fine Foods persevered through one of the most challenging times for the food industry.
Increasing sales
When asked if sales increased upon adopting Fresho, Travis responded with an unwavering "absolutely!"
"As far as new products go, it was very manual. It was me telling my customers" says Travis.
Now Fresho partially acts as a marketing tool for him to display his assortment of products and their pricing, prompting order diversity.
With Christmas arriving soon after his launch, but also uncertain what Christmas may look like post lockdowns, Travis allocated more time to put effort into Fresho like adding his range of stock and corresponding images, and immediately, he saw an impact.
Price lists being a pet hate, Fresho became a great tool for Travis, "When people ask me for a price list, they will probably have to ask me three times before I give them one. A lot of people aren't ethical with them. They leave them lying around, or they take a photo of it and send it to their favourite supplier… or they throw them out".
Now, if someone wants to see Travis' pricelist, it's as simple as setting them up on Fresho where customers can see a full catalogue, with live specials all in one place.
Fresho's specials feature is also the business's effective sales and marketing tool. "Less is more. If you have more specials, people tend to just scroll through it. When I hero 6-7 specials at a time, people are watching them instead of going to the pantry list. And I change it all over every week to keep people interested."
Travis Diss Fine Foods also has a partnership with Central Vic Meats.
"I was effectively putting their product on Fresho. It has helped me which has helped them as well. It has been a win-win for both of us.".
Fast, accurate invoicing
Fresho's full integration with Travis's accounting software, QuickBooks, streamlined his invoicing process.
"I am not sitting there keying in every line of my clients' invoices…which is what I was doing."
In addition to this, Travis has turned on automated credit card payments for customers who prefer this alternative. As a result, Travis receives payments on time and his business cashflow has improved.
Better order management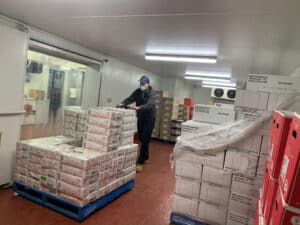 Travis pushing a trolley of stock in his freezerTravis Diss Fine Foods is a combination of fresh and frozen produce. With a digital system, Travis can pick orders for a run from the pantry, cooler room, or the freezer before placing them on a pallet, all while viewing and selecting live on his iPad to give a clear view of what order is incomplete and what is required to fulfil it. As a result, Travis's business runs a lot smoother and it gives him even more time at his disposal, a precious commodity.
"It's a big business tool for a small business. I love the back-order and out of stock facility on it. There is less room for error, especially if you have staff… I only have one fella effectively, but we work straight off the iPads so when we're picking orders, there is less room for error, which means less money lost."
"Because of Fresho, people are buying more items which increases your chances of making an error. So it's good to be able to go back and fill those orders, without missing an item or order in the end."
Travis Diss Fine Foods is now empowered with the right tools to increase efficiency and thrive as a business. Typically, the sales will follow.
The growth of Travis Diss Fine Foods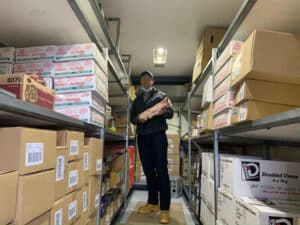 Two years ago, whether Travis Diss Fine foods would come out the other side of the pandemic was in question. Yet, not only did Travis Diss Fine Foods persist, but they scaled up, introducing a larger freezer only months after implementing Fresho.
With a new freezer, Travis has tapped into different markets- originally meat dominated, he has now added cakes and seafood to his Fresho supply page.
"It's been great to put that on Fresho. People can see we've got 3 different types of prawn cutlets as the sizing of the packs change. I have them all loaded on there and turn them off as I need to."
With more product diversification, Travis has seen an acceleration in sales and ultimately, business growth.
Travis admits the money he saves with Fresho "gets lost in the whirlwind" but with a bigger freezer, those savings go towards being able to have more stock on hand. He also sees an improvement in customer satisfaction, a key pillar to running a lucrative business.
The future of Travis Diss Fine Foods
For the business owner, personal life is hectic: "we've got three kids, they play football, we've got horses and we've got cows."
All the more reason to take a step back and place confidence in the effectiveness of Fresho.
With the prospect of business expansion closer than ever before, the freedom associated with running a self-sufficient business is near and it's safe to say, Travis can taste it.
When asked where he will be spending his spare time saved with Fresho, Travis responds "with my friends and family", deservedly so.
In time, Travis wants to put another employee on his books and take his much-needed family on holiday, a goal he put into place when he first started with Fresho.
The future of Travis Diss Fine Foods looks bright, which speaks volumes after the pandemic left the food industry reeling.
As for advice for other businesses… Travis said it was to make the most out of Fresho, monitoring it and using it effectively, where "it's user friendly and the more businesses that are on it, the easier it is."
What Travis has experienced, and the beauty of the platform, is that once launched, it has enormous benefits for both the customer and the supplier, it's not a one sided relationship.
"It's only as good as you make it. I've made a conscious effort after Christmas when things slowed down a bit to get the people to use it who weren't already."
When asked what he would change if he could turn back time, Travis said "I would take more risks and have done it earlier".
Travis had initial hesitations about getting set up on Fresho he admits, "I know I may be old school but this is my baby that I built up from fifteen years ago… I wanted to know if it was perfect before I put it out there."
"If I couldn't use this system to make a couple of hundred bucks to cover the cost, I am wasting my time."
"But this was something that did speak to me and wanted to explore."