Greenpoint Fish, a Brooklyn (New York) fifth-generation fishmonger with a rich heritage has recently chosen Fresho as their ordering platform. How did this all come about? The backstory of this partnership proves that the seafood industry, though vast, thrives on tight-knit connections.  
It began with a casual conversation in Boston, USA, at the Seafood Expo North America, between Greenpoint Fish and an Australian supplier – an enthusiastic Fresho user of four years who advocated for the platform. Their recommendation set the stage for a spontaneous demo that ignited Greenpoint Fish's curiosity, leading them to explore Fresho.
Two seafood wholesalers finding common ground
Every March, Boston takes centre stage as the seafood epicentre during Seafood Expo North America (SENA), attracting industry pros worldwide. This year, Phil Clark from Fins Seafood, an Australian seafood wholesaler, attended and found himself in conversation with Vinny Milburn, the fish buyer representing Greenpoint Fish Wholesale in NYC. As often happens at these events, they chatted business operations and processes. It didn't take long for Phil to spot striking similarities between how Greenpoint Fish was currently operating, and how his own business used to function before embracing software solutions.
An on-the-spot Fresho demo
In both cases, they relied on manual order management processes, causing errors and eating up a lot of time. However, Phil and the Fins Seafood crew decided to pivot towards online ordering with Fresho, seeing a better way forward. Talking about this turning point for Fins seafood, Phil's enthusiasm was unmistakable. In fact, he pulled out his phone and provided a demonstration on the spot. 
Connecting with Fresho's Co-Founders
Soon after, an introduction was arranged with Fresho's Co-Founder, James Andronis, a seafood veteran with over two decades of experience at Clamms Seafood.  James, having heard Vinny's account of Greenpoint Fish's challenges, saw the advantages his business could gain from Fresho. Without skipping a beat, Vinny and the UK team were connected, setting the stage for a remote demo led by Fresho's other Co-Founder, Huw Birrell. From the UK offices, they initiated a video call with an online demo of the SaaS platform which convinced Vinny that this was the way to go.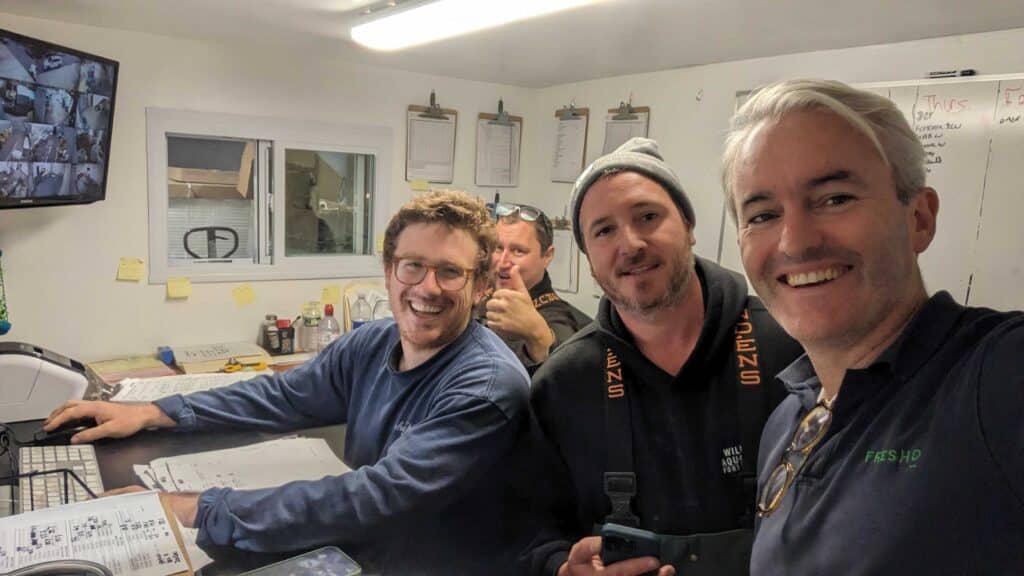 Fresho integration: The New York visit
With two demo's under their belt and conversations with the Co-Founders, Greenpoint Fish were eager to integrate Fresho into their business. Without delay, Huw and two implementation team members were on the next flight to New York. Their mission: To assist Greenpoint Fish in shedding their manual, paper-based operations and transition to online ordering with Fresho.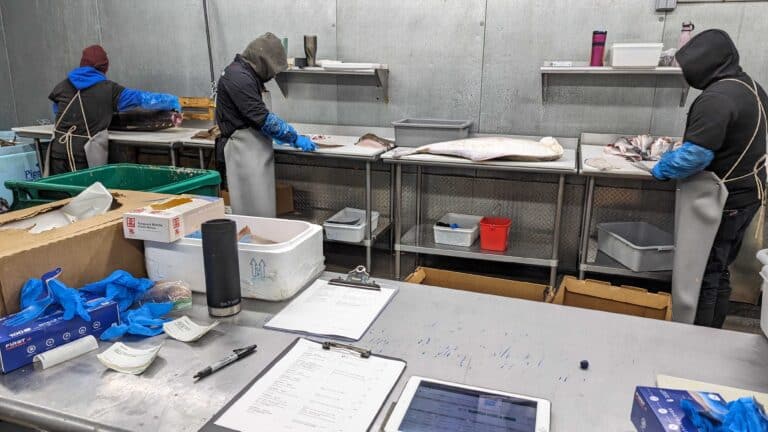 In the big world of seafood, a lucky meeting sparked a major change, turning Greenpoint Fish from manual to automated. This story not only underscores the profound connections that thread through the seafood industry but also exemplifies how technology creates a new era of adaptability, benefiting everyone involved. 
Want to read similar stories? Click here.