For food wholesalers, time is of the essence. The fresh food landscape is always rapidly changing but you may be struggling to find the time or resources to adapt. From staff shortages and high demand for local produce to technological advancements, societal food waste challenges, unpredictable weather, and a highly competitive market – where do you start?
We've been in your shoes, and we know the problems you face. Based on research, conversations with industry peers and our own experience we have created a resource for fresh food suppliers of all sizes. This gives you the top must-dos if you are looking to increase productivity and scale. Start with this checklist.
Automation- With current labour shortages, ensure you're getting the most out of your existing resources. Automated processes can help your employees redirect their focus from those repetitive, mundane tasks to those that are rewarding, productive and boost morale.

Cash flow management-

Cash flow consistency will be your business killer. With end-to-end platforms that automate card payments, reduce time spent on both chasing and processing payments plus ensure you get paid on time. Time is money.
A great customer experience- Creating a great experience will keep your customers happy and loyal and reduce your chances of losing them. Give your customers a good experience by making things efficient, convenient and consistent with online ordering software.

Full product visibility for customers-

It's easy for your customers to fall into the routine of ordering the same product from you. However, undoubtedly, exposing your entire product range online, including specials, will give customers the opportunity to explore what else you sell and help increase sales.
Warehouse operations in check- Dealing with large quantities makes it important to maximise efficiency across deliveries and incoming orders. By giving your employees access to the same information- on one platform where data flows seamlessly from one end to another – you streamline your processes and reduce errors.
Based on a recent Deloitte report, 85% of businesses rethought their work processes post-pandemic, and those that implemented automation saw increased productivity, cost reductions, accuracy and customer satisfaction improvements.
Small businesses are less likely to implement automation. When they do, they are more likely to succeed, according to a Mckinsey & co study which shows 31% of companies have automated at least one function.
Will automation make jobs redundant?
This is a valid and common concern, but the answer is no. While automation eliminates manual tasks and laborious processes, it also allows food wholesalers to allocate more important, value-added tasks to employees.
In fact, by giving your employees more meaningful work that they'll naturally enjoy, you'll make the most of their talent. You'll notice your employee satisfaction rate increase, and turnover starts to decrease. As the engines that keep your business running, keeping employees happy is vital.
If I am a small business, won't it be way out of my budget?
It's natural to think that such advanced capabilities will come with a ridiculous price tag. Gone are the days when automation was only affordable for larger businesses and there are now a number of digital solutions out there for SME's leading to costs plummeting. In 2020, 66% of businesses were automating at least one process, which is a 57% leap from the previous year.
The Invoice Market estimates there are $76 billion in unpaid invoices and two million businesses drowning in a sea of unpaid bills. Nine out of ten businesses close their doors due to cash flow problems, and food wholesalers are no exception.
How can I better manage and increase cash flow?
End-to-end or all-in-one platforms are not uncommon solutions for businesses looking to increase cash flow.  For one, this gives businesses full visibility to understand their current cash flow and make smart decisions. Two, Fresho, specifically built for the fresh food industry, has the functionality for wholesalers to automate receiving payments which means less work for you, less work for your customers, and you get paid on time.
And with additional solutions like Fresho Fastpay, you can receive payments within days, massively improving cash flow and unlocking the flexibility to drive your margin.
A great experience inspires customers to buy more, spreads the word and increases their loyalty. According to PWC's Future of Customer Experience Survey, customers want efficiency, convenience, and consistency so it's essential to nail all three.
Online ordering software can create phenomenal customer experiences by:
Streamlining your processes which will increase efficiency, leaving you time to focus on building relationships
Automating card payments to avoid nagging for payment and keep your customer relationships courteous
Using a central tool that is available anywhere, anytime from any device. No matter where your customers are, they can save time by making on-the-spot decisions making life easier and more convenient
4. Display your whole product range including specials
As orders are traditionally placed via text, email, and phone, chefs subconsciously know what they are buying, how much of it they need, and how it will be used.
But by moving online and displaying to your chefs the entire product range, you give them an extra layer of choice and inspires them to mix up their menus and in turn, buy more. You can spark their creativity or simply show them stock items they're already getting from other suppliers.
With Fresho, you can display your complete product range, live pricing, and specials, your customers are more likely to make a purchase. In fact, across all countries and industries, Fresho has seen a 35% average increase in line items.
But there are more ways than one to encourage an increase in basket size, like displaying items on special which appear at the top of the page.
By promoting specials where your customers can see them, you can nudge the consumer's cost/benefit analysis in your favour, plus you're setting yourself apart from competitors. If there are businesses that sell similar products to yours, you can get your customers over the line by offering cheaper products, testing new products, or quickly getting rid of stock that will expire.
5. Manage warehouse operations
According to the 2017 E-commerce fulfilment report by Peoplevox, 46% of the leading issues in retail and warehousing result in human error costing the industry $1.75 trillion in lost revenue.
Wholesalers deal with large quantities of stock and fresh food wholesalers specifically deal with perishable products. Simplifying, streamlining and maximising efficiency across receiving orders through to warehouse operations and payments is crucial to prevent waste and loss of money.
Every business storing goods in a warehouse knows that effective management can be the difference between quickly filling customer orders and keeping costs down, versus making errors, hearing complaints about delayed or inaccurate deliveries, and higher operating costs.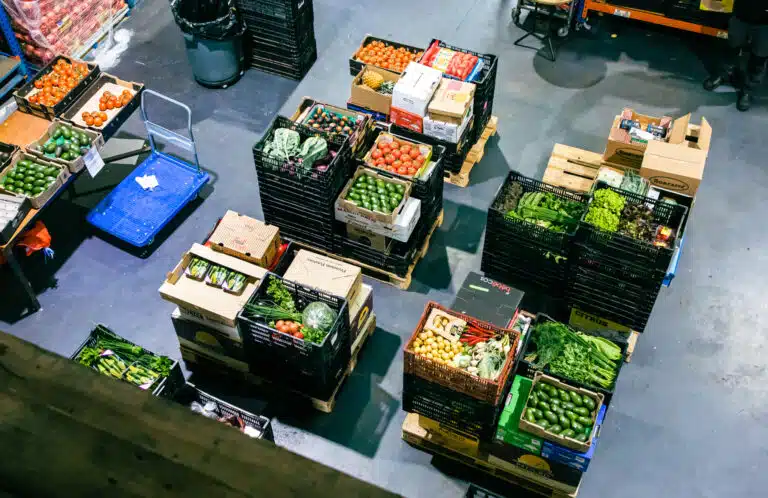 How can I efficiently manage warehouse operations?
By using technology. This doesn't mean implementing mechanical technology but rather a warehouse management system.
The Fresho software is a platform for suppliers to manage picking and packing online. From the moment a customer enters an order, data flows seamlessly from one end to the other, from picking and packing through to product total reports, cutting lists, delivery reports and delivery run management. With all your staff working off the same platform, with the same information, your business will reduce those human errors and ultimately, save time.