Melbourne foodtech startup Fresho has raised $9 million in funding from a group of private investors including Rob Phillpot and Leigh Jasper, co-founders of Aussie construction startup success story Aconex.
Investors also included the Tarascio family of Salta Capital; Zuuse chair Geoff Tarrant; and Andrew Sypkes, an early investor in Aconex, Canva and Zoox.
Founded in 2016 by Huw Birrell and James Andronis, Fresho is a tech platform allowing food distributors, wholesalers and processors to automate their ordering, invoicing and warehouse management, to improve efficiency.
Speaking to StartupSmart, Andronis, who was formerly chief executive of seafood distribution giant Clamms Seafood, notes that this is an old, antiquated and hands-on industry.
"The management and owners are very time poor," he says.
Even when he was in the industry, he didn't really consider the inefficiencies in the way things worked.
"To be honest, I didn't really think there was a better way until I was out of the industry and had time to reflect on it."
After leaving Clamms Seafood, Andronis caught up with Birrell, an old friend, who "presented a bit of a concept".
The pair each made notes, and "we ran with it", Andronis says.
"It really blossomed from there … it didn't really take long for us to realise we could have a big impact on the businesses in the industry."
Now, the platform processes about $1 million in gross order value every day.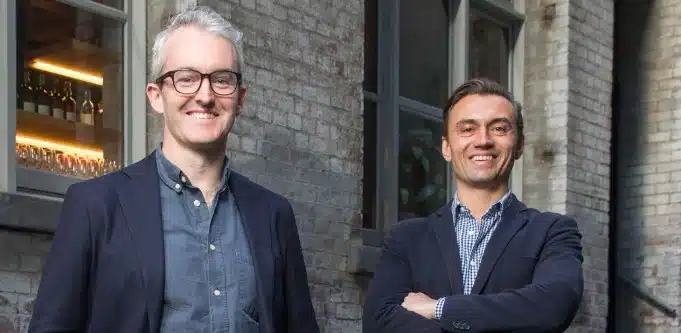 Having the likes of Phillpot and Jasper on board is "fantastic" for Fresho, Andronis says.
"We're very fortunate to have great support from our shareholder base, and some very experienced investors."
The raise was not only about the money, he adds. It's more about having "the sounding board" of other entrepreneurs who have grown successful tech businesses.
These investors have been willing to make time for the Fresho founders, and Andronis says, importantly, they seem to love the product.
The Aconex founders in particular connected with the product, seeing similarities with their own startup.
"Although it's a different industry, they see that similar working of a network effect … which is what they got really excited about," Andronis says.
Looking ahead, the co-founder says he would love to follow in Aconex's footsteps. The construction tech giant listed on the ASX in a $140 million float in 2014, and was acquired by Oracle in 2017 for $1.6 billion.
"It's everybody's dream to build a business of that significant size and have an event like that," Andronis says.
But there's "a long way to go", he adds.
"At the moment we're concentrating on the main things — growth, building the organisation out and getting a really good structure."
A large portion of this latest investment will be used for this. The co-founders are focusing on scaling and achieving faster growth.
It will be implementing streamlined processes from sale through to implementation, and increasing its headcount, in a bid to "gear us up for another strong growth period", Andronis says.
Having come from the industry side of things, rather than from a tech background, Andronis advises other founders of the importance of immersing yourself into the industry you're addressing.
"Really get a good understanding of the product side of things," he says.
"Like in any industry, you never stop learning, no matter how good you are," he adds.
"So just get involved with the product side, talk things through in your team, and get a great level of communication happening so that the development process is streamlined and your building relevant features for what the big picture is."
For Andronis, it was also important to find a co-founder who did have tech experience. Together, the two bring "a nice level of experience" to the business, he says.
But it's also not just about them. It's also important for each to impart their knowledge to build a strong team.
"It's not about two people … it's about the whole business."
Between them, they work on strengthening the team, and therefore the business, Andronis says.
"You have to think like that," he explains.
"That's one of the key things that I would recommend. Think of the bigger picture and impart your knowledge to the team."