Check out these fresh product updates – get a full view of your business health with Data Mode, say goodbye to order disputes with Proof of Delivery, and bulk upload negotiated prices. Let's jump in! 
Monitor business health with Data Mode
The wholesale food industry is fast-paced and always changing. With food prices rapidly fluctuating at the drop of a hat, it's hard to keep up. So it's no surprise wholesalers find it hard to get a clear snapshot of how their business is doing.
With Data Mode, you no longer have to struggle balancing between keeping customers happy whilst worrying if they're actually costing you money. You can see all of these insights with the click of a button.
How does it work?
Data Mode lets you keep a close eye on your buying and selling data in real-time. Easily track both your product and customer margins to help make the crucial pricing decisions that will boost your bottom line. 
View sales and purchases by day, product, or customer in a chart, table, or downloadable CSV file. You'll get instant data in seconds, and view your entire history.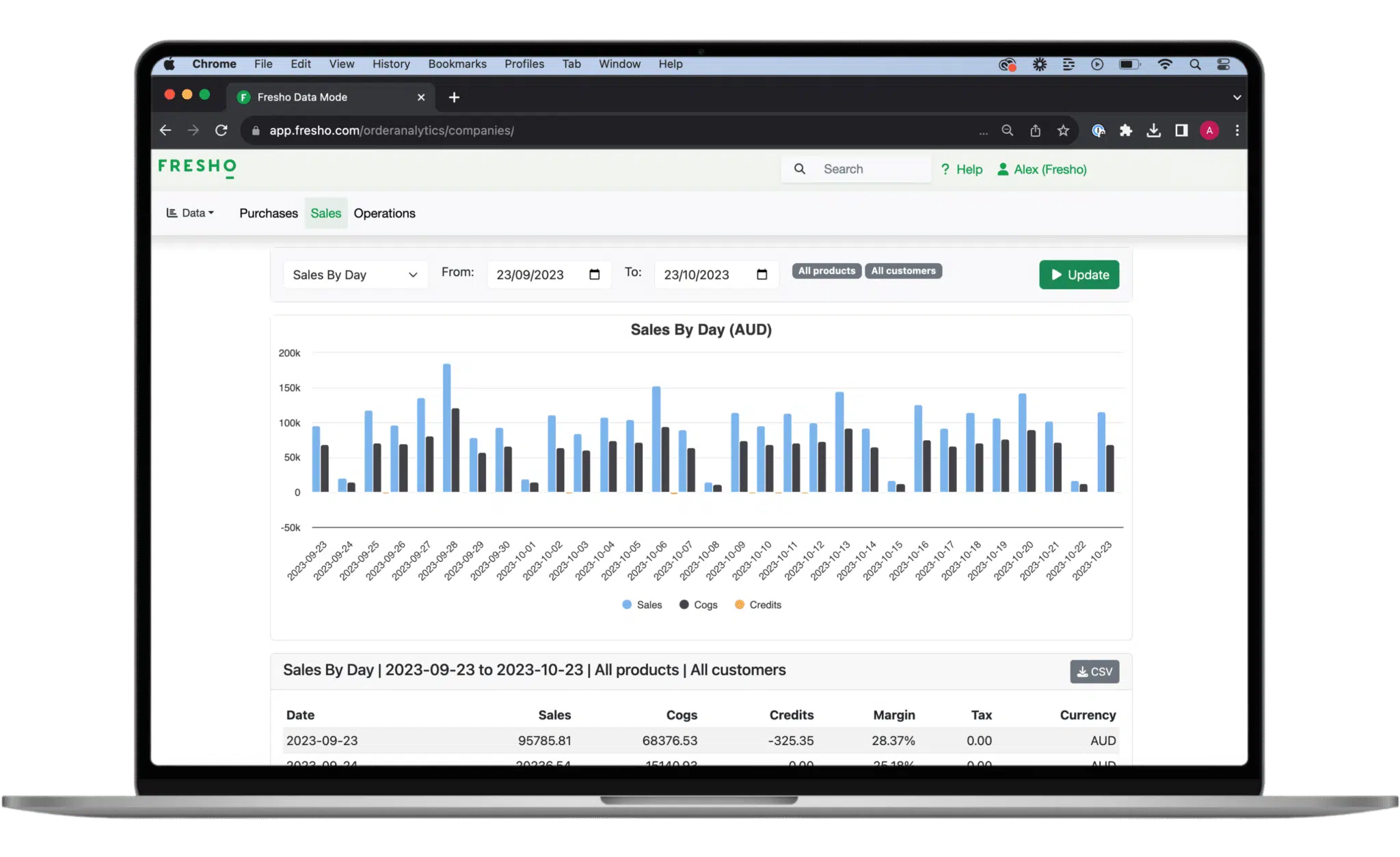 Forget order disputes with Proof of Delivery
Your drivers can easily record proof of delivery by simply scanning the QR code on the invoice. No login is required, and the location of the delivery is automatically tagged. If no one is there to accept the order, the driver can upload a photo of where they left the delivery. 
The delivery information is live in Fresho for both you and your customers to view. Learn more here.
Product Totals by Customer - now available as a csv
You now have more flexibility with your reporting in Fresho. The product totals by customer report can be downloaded in CSV format, so you can customise the data or import it into other systems as you see fit.
Note: For pricing data or reporting across timeframes, use the new Data Mode feature instead, see above.
Bulk upload negotiated prices
As well as holding an unlimited amount of negotiated prices, export your negotiated prices as a CSV and easily make updates in bulk, before importing it back into Fresho. 

After importing your negotiated pricing, you can also add permanent product notes to a specific negotiated pricing group. 

For example, include processing instructions that are exclusively applied to customers within that group. Both the customer and your pickers will be able to see this under supplier notes.

Learn more

here

. 
We're always looking for ways to help improve your business operations. If you have any feedback or want to see how Fresho can work for your business, feel free to get in touch.