Wholesale Food Online Ordering Software
For fresh food wholesale suppliers and their customers to easily manage ordering, picking, invoicing and payments in one place.
What you can do with Fresho Software
Fresho is the most popular online software designed for fresh food wholesale suppliers and their customers. Run a better business with online ordering, picking, invoicing and payments.
"We actually save about 40 hours a week."
Master your complete order-to-payments process.
Free and fast online ordering with access to specials, latest prices and invoices.
Why you need Fresho Software now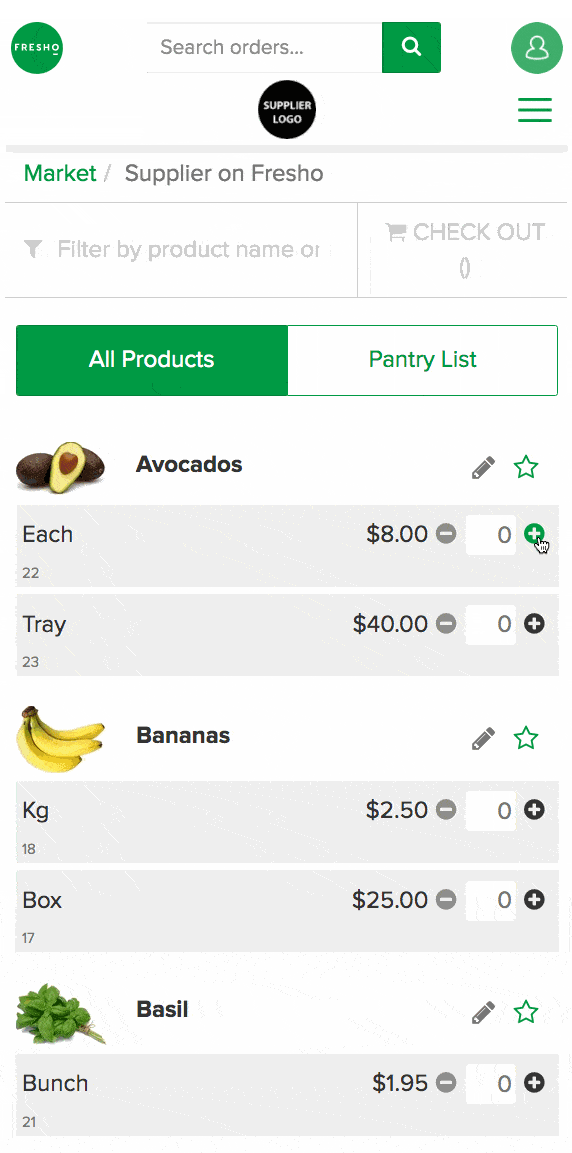 Manage orders online and save hours every day, improving your work-life balance in a tough and demanding industry.
Always at your fingertips
Whether you're on the road or at home, access Fresho on any device to know what's happening in your business.
Out of your head, into a system
Store information in a place where your team can access it, and relax.
Not everyone is tech-savvy, but we've got your back.  Easy to use software, and lots of support to get started. 
Protect your relationships
We respect supplier customer relationships. Fresho is not an open market or price comparison tool.
We're with you every step of the way, from the quick set-up to ongoing support as your business grows.
Wholesale Food and Beverage Suppliers in a Wide Range of Categories
Join the Largest Network of
Fresh Food Wholesalers and Venues in orders processed yearly venues connecting with food wholesalers an order is placed using the Fresho platform
See what our users have to say
Seong soo Park
20/10/2023
Amazing team. If you running a food business, this FreshO team is mandatory. Make your life easier with FreshO.
Feebee-Lou Baines
18/10/2023
We cannot fault the speed of the service provided by the Fresho support team!
Christian Zelvis
16/10/2023
Amazing service, quick response times to any questions and queries with results at the end. Thank you.
I deal with the support team @fresho daily with enquiries for Rarity Wholesale. They are efficient and nothing is ever a problem. Huge shout out to Corey for his amazing communication and help.
A fantastic experience. I would highly recommend. The innovative team at Fresho have been delightful to deal with and continue to deliver on their promises.
We use Fresho for Both our Home Delivery and also Wholesale business. Fresho is a great system to work with and very simple. They provide great support and customer service, very easy to work with. Fresho has been a great tool to give our customer the option to order online. Would certainly recommend.
Dũng Bùi (Alex)
02/06/2022
We're loving the Fresho! It's made our business much more efficient and saved us a lot of time. Everything runs smoothly and is very easy to manage. Our wholesale customers have access to our full range of products, special offers, and their recent order history. The Fresho team provides outstanding customer service, answering calls and emails promptly and always going the extra mile to help us out. A big shout out to Oscar, Jamie, and Michael who help us from zero to hero!
Paul Capobianco
01/06/2022
Just launched with Fresho. Henry was fantastic! Stayed for 17 hour straight through the night to help us get it right.
I am very happy with FRESHO. It is easy to use and has made a positive impact on my business.
Join the rest of the fresh food industry seamlessly managing everyday processes on one, easy-to-use platform.